It's always very annoying when a dog gets smelly or dirty, and it's even worse when you don't have shampoo on hand to give him a bath. If you don't want your pets to leave dirty footprints or bad odors in the house, there are some products that you can use to bathe them if you have no other alternative. While it's not a good idea to use human shampoo, you may have other dog-safe options at home. Below you will find some of the products that you can use to bathe it if you have no other alternative.
Rinse your dog with clean water as a temporary solution
Water does not help remove bad smell but it does remove dirt. Use a hose, pitcher or a bucket to bathe your dog outside or in the bathtub. Rinse the fur thoroughly with warm water for a few minutes or until the water runs clear.
Comb through the fur with your fingers to remove any stuck-on dirt.
Bathe the dog with Pet Safe dishwashing soap
Dilute 1 cup (250 ml) of liquid dishwashing soap in 2 cups (500 ml) of warm water. Shake or mix liquids until well combined before applying. As you bathe the dog, make sure to work the soap into the fur and down to the skin to get rid of dirt and odor.
Another option is to put the soap in a spray bottle to make it easier to apply.
Consider that using dishwashing soap frequently can dry out your dog's skin. Therefore, avoid using this option if your pet already has a problem with dryness.
Use baby shampoo as an alternative
Baby shampoo does not irritate dogs' skin like other human shampoos. Combine 2 cups (500 ml) of water with 1 cup (250 ml) of baby shampoo. Stir the mixture well and place it in a jar to make it easier to apply. Be sure to create a lather and thoroughly wash the dog's fur with the shampoo.
You can add about 2 tablespoons (30 ml) of aloe vera to the shampoo to make the fur soft and silky.
Bathe the dog with vinegar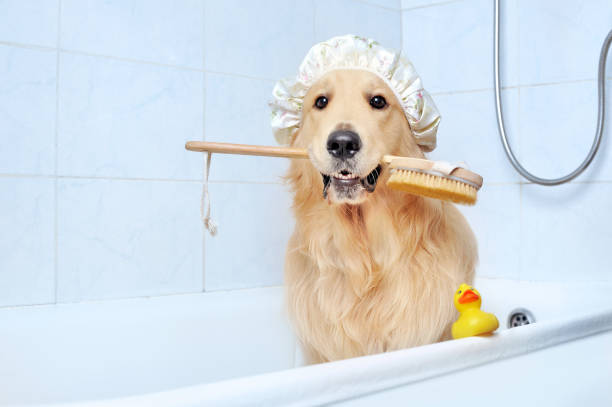 Mix equal parts vinegar and water to prevent the smell from sticking. Make sure you penetrate the fur well and get all the way to the skin when bathing the dog. Let the solution sit for about 5 minutes before rinsing it off with clean water.
Vinegar also helps kill parasites, such as fleas and ticks.
Be careful not to get the vinegar in your dog's eyes, as it can cause a lot of irritation.
Cleaning the dog's fur with baking soda and cornstarch
Baking soda can absorb odors as well as remove dirt and grime. Combine 1 cup (250 g) of baking soda and 1 cup (125 g) of cornstarch in a bowl. When you want to clean your dog, sprinkle some of the mixture on the fur and then comb it.
If you use this dry shampoo too often, it could start to build up residue on the fur.
You can add a little lavender essential oil to your dry shampoo to give it a nice scent. Keep in mind, however, that other essential oils can be toxic to your pet, so check with your vet before using them.
Give the dog an oatmeal bath
Oatmeal baths are soothing and can soothe dry skin. Place 1 cup (90 g) of uncooked oats in a blender or food processor and grind them into a flour. Fill the tub with a few inches of water and pour in the oatmeal. Place the dog inside and let him soak for 10-15 minutes and cover his fur with the oatmeal.
Add about ½ cup (120 g) of baking soda to give your bath a calming effect.
You can also add a little water to create an oatmeal paste. This way, you can apply it to specific parts of the fur without having to give the dog a bath.
Use dog wipes.
Wipes can't remove dried soil, but they do provide a quick cleanup. Get a package of dog wipes at a pet store or online. Take one of the wipes and use it to clean your pet's paw pads or the wrinkles on his nose. Once you're done, just throw it in the trash.
Avoid using baby wipes, as these can be too harsh on your dog's sensitive skin.
Warnings
Avoid using human shampoos as they are too strong for dogs.
Bathe your pets only every 2-4 months or if they get too dirty. Otherwise, you could damage the natural oils in his fur and dry out his skin.
Disclaimer: "The advice in this article is for reading purposes only. Always seek professional advice before following any
of the methods/ advice in this article"